Meet Rick Powell - Attorney at Cain Law Office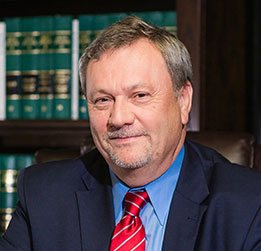 Rick Powell is a native Oklahoman who has been providing legal services to the people of his home state for decades.
Rick Powell's Educational Background
A 1975 graduate of Southwestern Oklahoma State University, Mr. Powell attended Oklahoma City University School of Law, receiving his J.D. in 1979. He launched his legal career in a general-practice firm where one of his fellow attorneys was Monty L. Cain, who would later leave to found the Cain Law Office in 1995. Twenty years later, Mr. Powell joined the Cain Law Office.
Rick Powell's Diverse Legal Background
Mr. Powell's practice has continued to be diverse, with a concentration on various kinds of civil litigation — domestic relations, guardianship, probate, and bankruptcy — as well as criminal defense.
His many years of experience provide Mr. Powell a deep understanding of the law, which is his greatest strength as an attorney. He considers his greatest source of enjoyment, however, to be his ongoing interaction with clients and the knowledge that he has positively impacted their lives.
Recognitions & Personal Life
Mr. Powell has long been active in the Family Law Division of the Oklahoma Bar Association and is a member of the U.S. Court of Appeals for the 10th Circuit and the U.S. District Courts for the Eastern District and Western District.
He is an avid fisherman, but his primary activity away from the law office is a beef-cattle ranch that he operates in western Oklahoma.